Monthly Archives:
November 2010
Click on the title of the blog post to view the entire entry.
November 29, 2010 – 5:26 am
November 14, 2010 – 7:01 am
That is Belgrade, Serbia in case you didn't know….  Belgrade, the capital city of the former Yugoslavia…  which I didn't know until we won the German Wings lottery!
Let me back up a little.  German Wings, obviously a German airline company, offers blind booking, a deal that is more fun and cheaper than Priceline.  20 Euros for a round trip ticket except you don't know the LOCATION until after you have hit 'send'.  We have been wanting to do it for a while – almost as its own rite of passage during our time here in Deutschland – and have known full well that you must do it before traveling to the possible destinations to avoid repeat vacations.  So we decided to break down and try this fun experiment with the Eastern European Metropolis group as we have not been to any of the possible locations.  Budapest, Bucharest, Sofia, Belgrade, Leipzig, and Dresden.  We paid an extra 5 Euros per ticket to avoid the German locations as that seemed pointless to us to fly for the weekend within Germany.  That left the three B's and Sofia.  I had never even heard of Sofia (it is in Bulgaria) and mistakenly had Belfast in my head for Belgrade… so we had to do a little googling before we took the plunge.  I will admit I had my hopes set on Budapest…  But, alas, we won tickets to Belgrade!!
Jump forward to the trip.  We arrived in Belgrade the Thursday of Veterans day to beautiful sunny skies and warm temperatures for what we were accustomed.  I have to admit I immediately fell in love with the look and texture of the architecture.  It is not what one would normally consider beautiful.  It is dark and dreary and rather shabby and downright scary in places.  But as soon as we saw the cityscape in the hotel van on our way from the airport I was hooked.  From a distance I decided right away that the look of the buildings gave the city the feeling of crumpled up paper.  I had never seen anything like it and was instantly engaged.  And, once we arrived on the city streets I was not disappointed by the details.  Grungy gray tones, garish air conditioning units out every window, old 1940's street cars packed full of people, old Eastern Bloc cars distributed among the modern day European vehicles all on the backdrop of the low bright sun I see often in Europe and absolutely adore.  Completely unpretentious and yet by total accident through time and wear this city has perfectly captured the feel of a used and unloved loading dock I so desire to capture in the background of my American portraits.  It spoke to me.
I found the people quite friendly and very stylish.  The prices were downright cheap.  The language is fascinating to overhear as it sounds distinctly like Russian.  Yet, the mix between Serbian and English made it relatively easy to maneuver the city streets and restaurant menus without feeling too much like an outsider.  The English of the average person we came in contact with was superb but I admit I enjoyed inserting 'or I vil kill you!' after every polite gesture (in my head, of course).  'Hand me your key card' said the hotel porter' 'Or I vil kill you!'  You cannot accuse me of not making my own entertainment.
All of this made me love Belgrade.  But I am a Polish girl of descent.  I moved away from a community of people from a similar heritage when I was 7.  The population of Minnesota where I grew up is notably of German and Scandinavian roots.  And, ever since I have had very little connection with my ancestors through our moves around the country and our visits in Europe and Asia.  This was the very first time I ever set foot in Eastern Europe.  And, suddenly I felt like the little adopted girl who met her long lost cousins for the first time…  I looked around and I saw a set of features that were not that different from mine……  It was strange and exhilarating at the same time!  Now I am certain we must make it to Poland (as Ian is planning this summer…. )
So enough about that… let me show you this crumpled-paper-bird-pooped-on architecture of which I speak.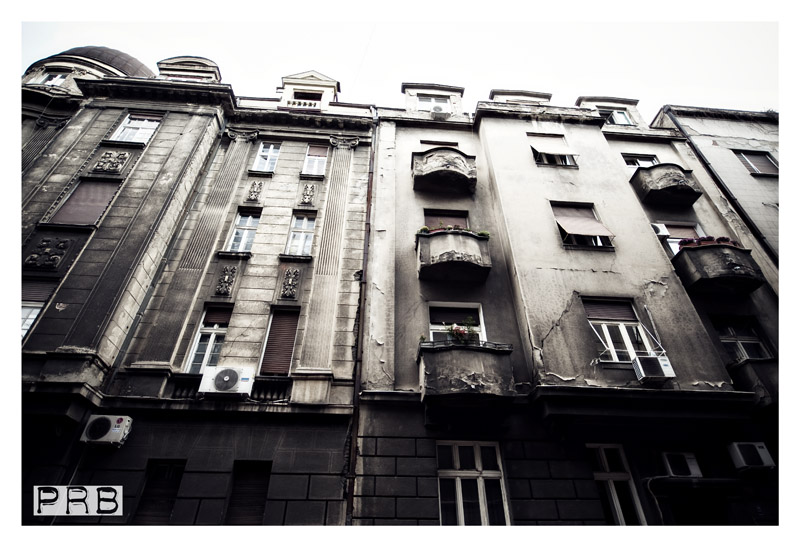 Fabulous.  You cannot recreate that.  That only happens through time and wear and a history of damage and despair.  It is beautiful.
Share on Facebook